Illustration Materials
To download images: Move the mouse cursor over the image and right-click to save it.
Or click Title.
Terms and Conditions of Use
These are illustration materials created by National Institute for Environmental Studies. Please use it for the purpose of raising awareness of adaptation.
These materials are provided under the Creative Commons License Labeling-Non-Profit-Non-Modification Prohibition 4.0 International License. The materials can be used freely as long as the following conditions are met.

Display: When using materials, specify the source as follows: "Source: Climate Change Adaptation Information Platform" or "This work was created using materials published on Climate Change Adaptation Information Platform."
Non-profit: A work using materials cannot be used for profit.
No modification: The material cannot be processed and used.

No prior permission is required when used in accordance with the above conditions. If the materials is used in excess of this condition, please contact us in advance.
We would appreciate if you could inform us the work that was produced through the inquiry form at a later date. We will use it for future improvement
Adaptation Planning Icon for Climate Change Impacts (Seven main sectors)
Icon for the seven main sectors of climate change adaptation in Japan.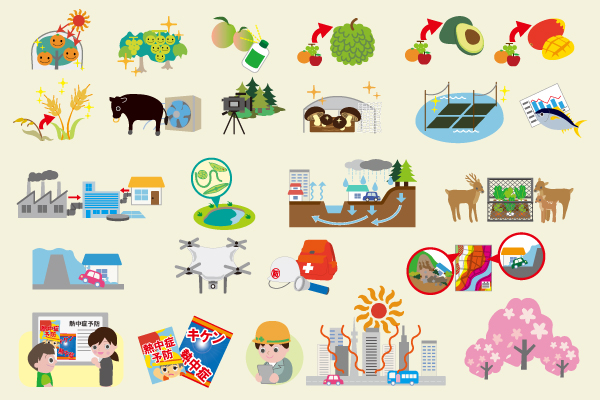 Illustrations on various climate change "impacts" that have already appeared in our lives, and "adaptation measures" for impacts if they become "severe" in the future are provided.
Please use them for presentations, dissemination and enlightenment materials.
Illustrations of Climate Change Mitigation and Adaptation
"Mitigation" to prevent climate change from occurring and "adaptation" to the impacts of climate change that are already taking place. These illustrations introduce two measures against climate change.
Climate change adaptation logo (Japanese style logo)
These are created with the aim of communicating that adaptation to climate change is closely related to people's livelihoods, as well as the rich four seasons of Japan.