Interview
Adaptation measures
Vol.20 Hokkaido
Changes in Cultivation of Wine Grapes and Wineries Caused by Climate Change
| | |
| --- | --- |
| Date of interview | September 15, 2020 |
| Target | Kiichiro Ochi, Managing Director, OcciGabi Co., Ltd. |
Mr. Ochi, you have cultivated wine grapes in Otaru, Nagano, Niigata, and Yoichi for over 40 years. Can you tell us about climate change that is actually felt in the field and its impacts based on your experience?
I learned about grape cultivation and winemaking in Europe, and came home in 1978 to establish a winery company in Otaru with my uncle. While the company is located in Otaru, the vineyard is located in Urausu Town, which is 60 km northeast of Sapporo. We worked really hard to successfully cultivate the approximately 400 saplings of 40 breeds that were gifted from the German government.
Then I moved to Niigata after working at a winery in Samizu Village, Nagano, and spent 7 years establishing Winery "CAVE D'OCCI." The reason why I moved to Niigata was because the French grape breeds that can increase the additional value through long aging were difficult to grow under the cool climate in Hokkaido. Since Niigata had higher temperatures than Hokkaido, and since the boundary line for the inhibiting factors which were typhoons and rainy season was said to lie between Itoigawa and Shizuoka, I settled in Niigata, which is just above the line.
However, starting sometime around 1998, I began to be strongly aware of warming in Japan. Just around the time when I completed the establishment of "CAVE D'OCCI," I heard that the average temperature in Hokkaido increased by 1.4C. I thought "now it is possible to cultivate the French wine grapes in Hokkaido." At the same time, Niigata began to be affected by the seasonal rain front, which had not been the case before, and typhoons started to make landfall in the prefecture at least twice a year. Rain in the summer causes mold and swelling in wine grapes. I therefore considered various factors, and returned to Hokkaido after handing the reins for "CAVE D'OCCI" to younger workers.
Can you tell us why you established a winery in Yoichi Town of all of Hokkaido, along with the climate conditions appropriate for wine grape cultivation?
Yoichi has grown in its presence as the only base that supplies the fruits consumed by Hokkaido residents since the Meiji Restoration. Because the town has the appropriate weather conditions for growing wine grapes, it now hosts over 40 wine grape farmers.
First, Yoichi has little rain and snow. It is also protected from winds, with mountains surrounding the town from three directions except for true north. The temperatures during the severe cold season do not go too low, maybe because the last heat from the Tsushima Current, which is a warm current, reaches the town. Or Ishikari Bay in front of the town and the large water surface on the Yoichi River that flows through the center of Yoichi Town are making the climate in summer and winter milder.
Since this land was appropriate for overall fruit growing in addition to wine grapes, I was certain that nothing would go wrong in coming to Yoichi.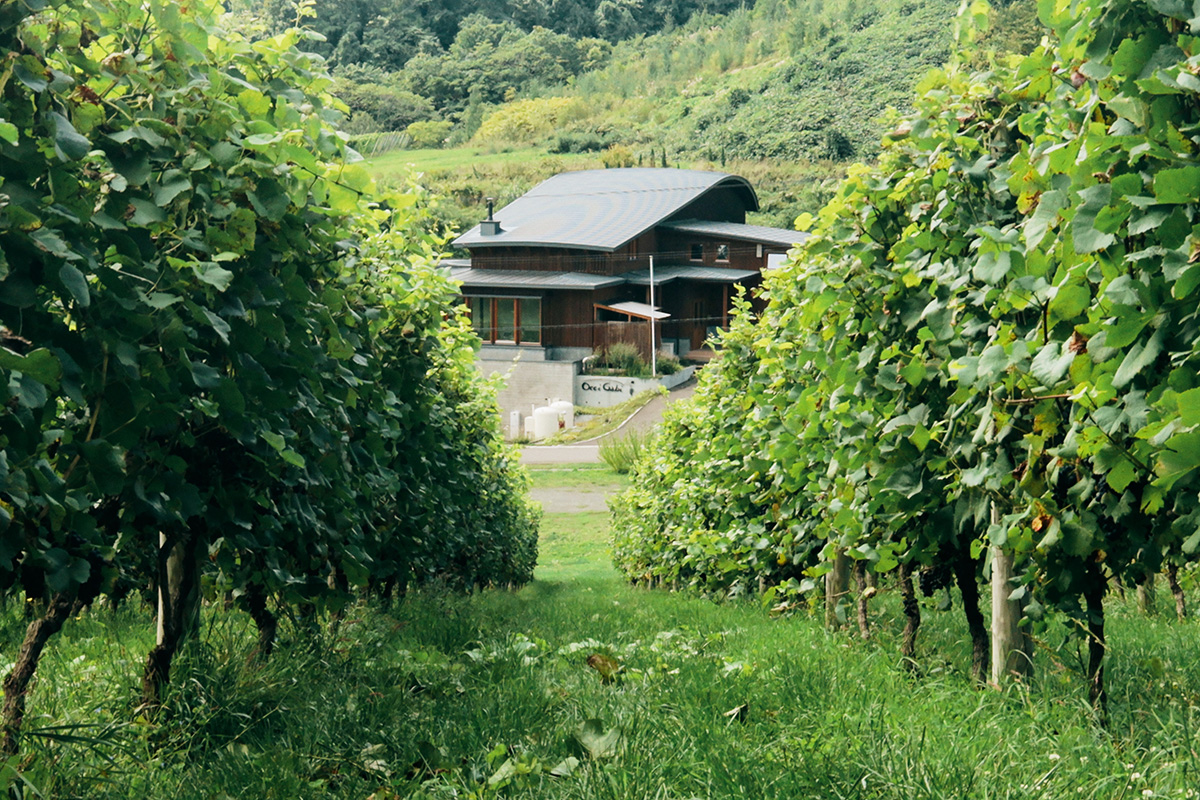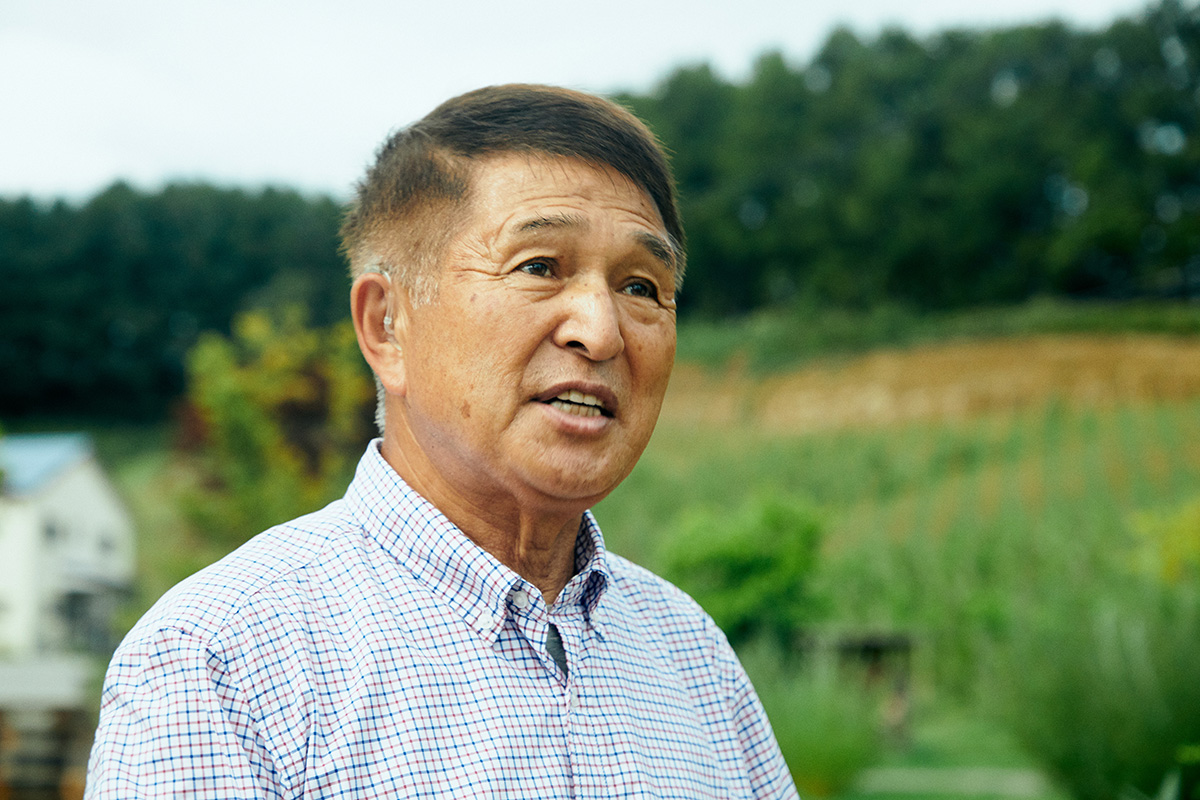 How have cultivated breeds changed due to the impacts of climate change?
Because of the rising temperatures, wineries all over the world and those in Yoichi are shifting to different breeds. I introduced the big three German breeds called Kerner, Bacchus, and Zweigeltrebe 40 years ago, but the time has come when we should stop cultivating them. At present, French breeds called Pinot Noir, Chardonnay, and Gewurztraminer mature well. It is still difficult to grow the Cabernet family, but we can cultivate the so-called German Cabernet family, which is a crossbreed of Lemberger from South Germany and Cabernet Sauvignon that is said to have taste infinitely close to that of Cabernet Sauvignon with the date of maturity in the last ten days of September to the second ten days of October. These will make the high-end wine that represents Hokkaido in the near future.
However, the lowest temperature may reach -20C in winters with little snow, which may freeze the grape vine buds to death if the buds are exposed, and it keeps us quite tense, even with the global warming.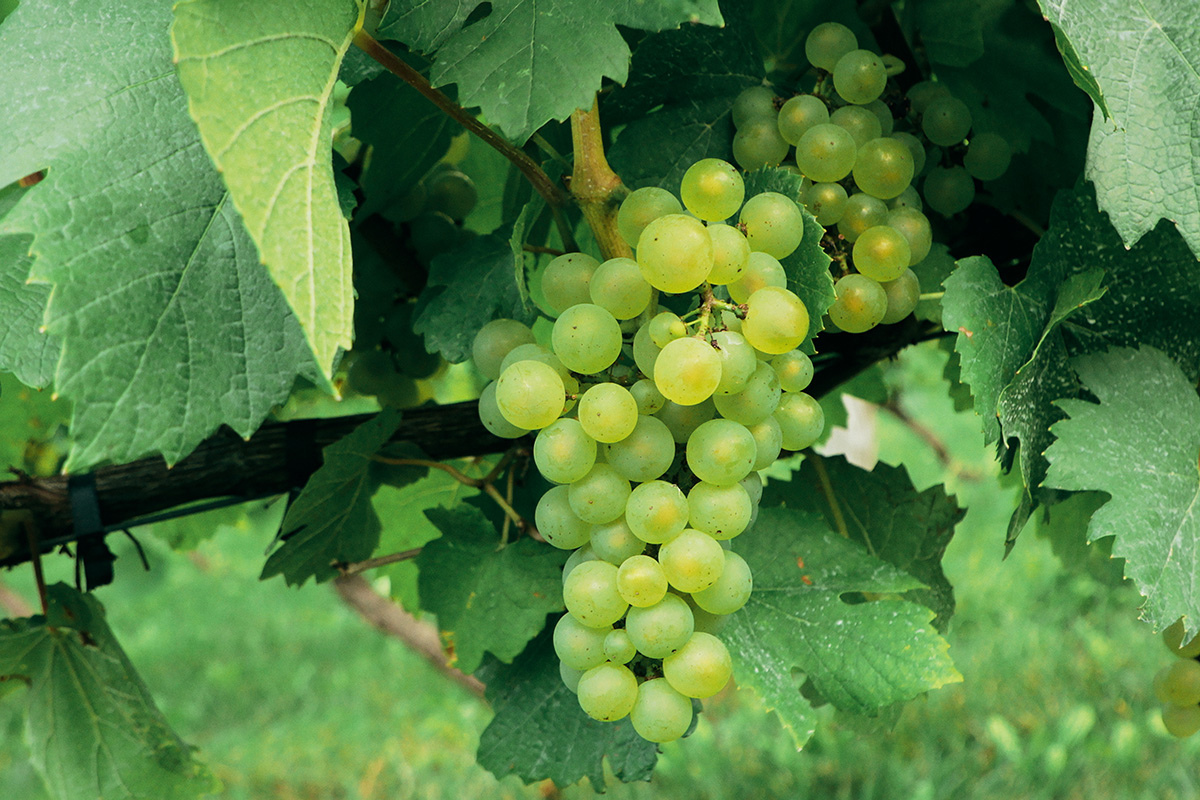 Chardonnay
Acolon
Would you tell us what you know about global climate change and its impact on wine grape cultivation in wineries around the world?
Until only 20 years ago, the northern limit for wine grape cultivation in Europe had been Champagne, France, which is located near the border to Belgium. It has now moved north to the middle of England and south Sweden. While each region of Europe has its own grape breeds, cultivation becomes difficult when the temperature shifts by 2C from the climate that is appropriate for the breed. In Bordeaux in southwest France, which is famous for wine production, it is said that the grapes of land-specific breeds will no longer grow in 10 to 20 years.
It seems that things are also becoming more difficult in Napa Valley, California. Some people are already moving to the state of Oregon or British Columbia at the western edge of Canada. Wineries in Australia are beginning to gather on the southern Island of Tasmania because Hunter Valley, which is on the outskirts of Sydney, became too hot.
You either dramatically change the cultivated breeds, or you move the location without changing what you cultivate. I think there are only these two choices.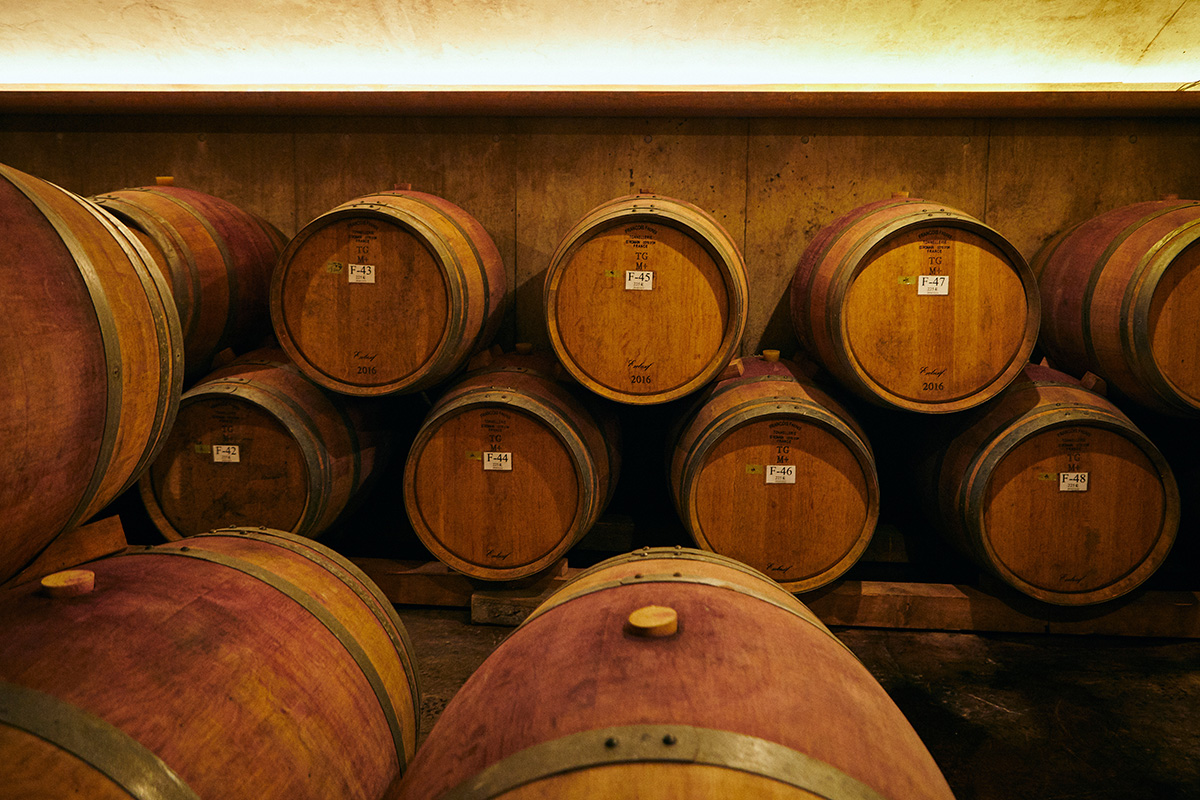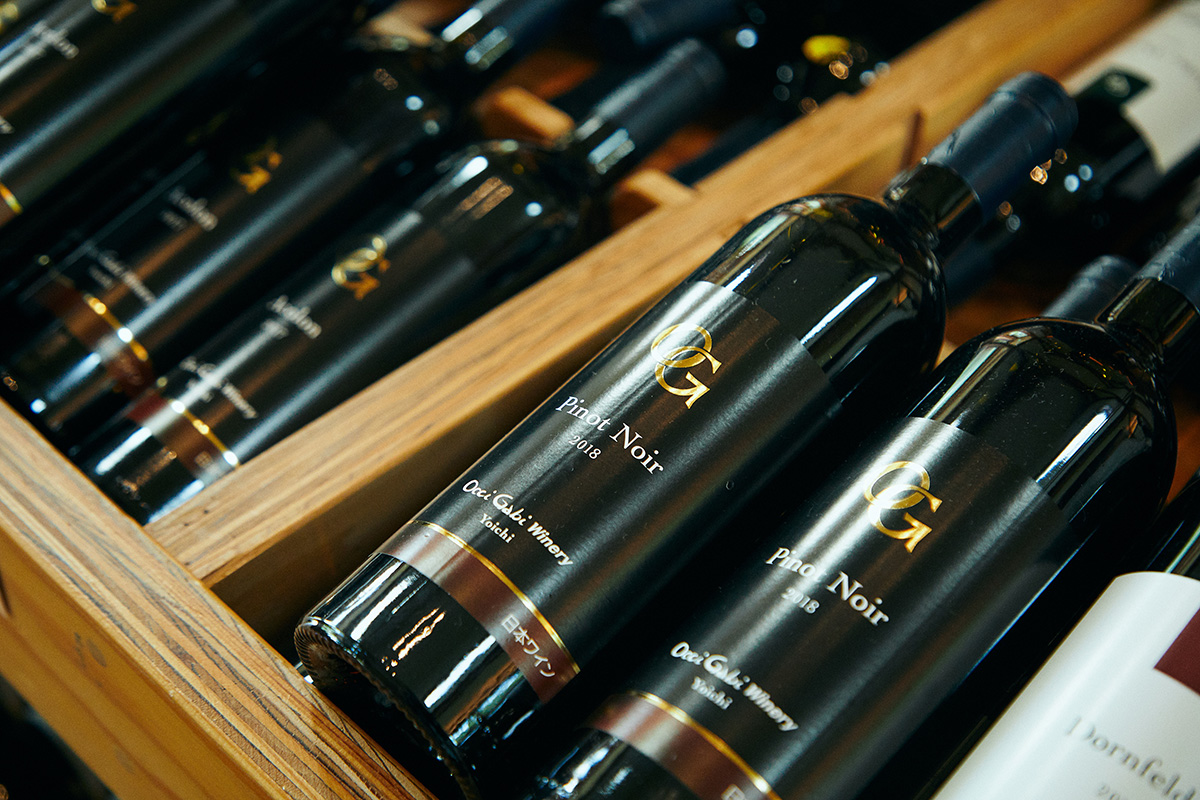 How do you think grape cultivation and winemaking will change in the future in Yoichi when you consider climate change?
Regardless of it being in Yoichi, climate change is a global problem. If we make the choice not to move the location, we must change the breeds that we cultivate. It is now possible to grow French breeds in Hokkaido, where only the German breeds that had high cold tolerance could be grown before. If North French breeds become difficult, we can switch to Central French breeds and South French breeds. If even these fail, then I think it is possible for us to switch to Spanish breeds, Central Italy breeds, Sicilian breeds, etc. in several stages.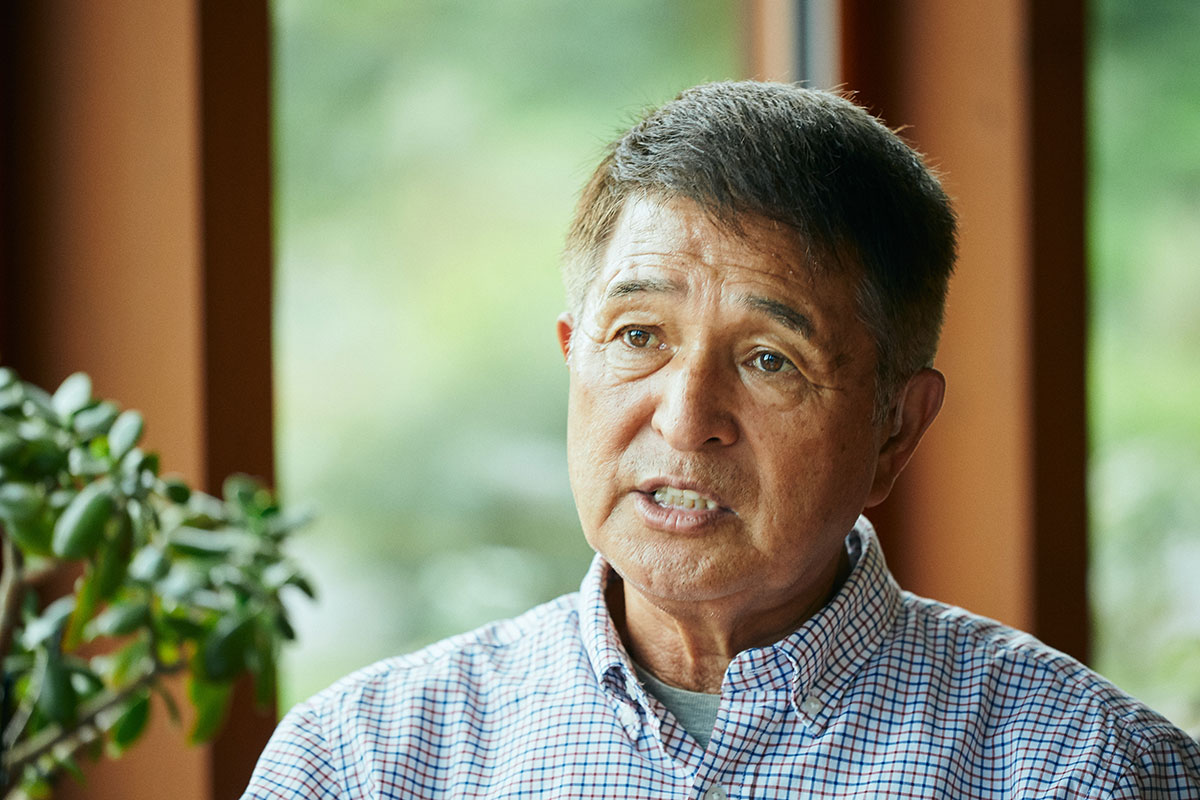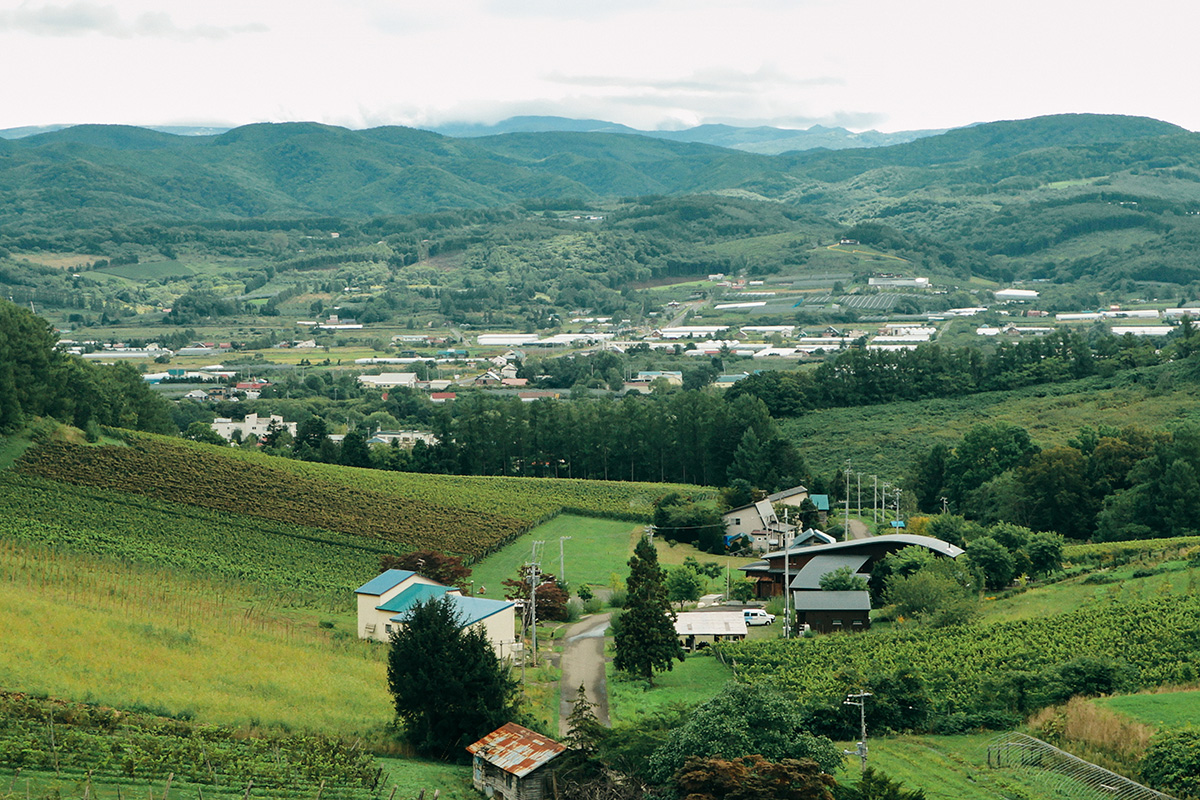 It is easy to make bad wine from good grapes, but the opposite is impossible. That is why everyone tries to grow healthy, good grapes. However, the climate prevents our efforts from time to time.
Although Hokkaido does not suffer large typhoons or rainy season yet, it will start to be in the subtropical zone in a few more decades. In that case, I am planning to keep my coordinates in Yoichi, and continue winemaking here by switching to cultivation of Italian breeds.

This article was written based on an interview held on September 15, 2020.
(Date of publication: December 3, 2020)